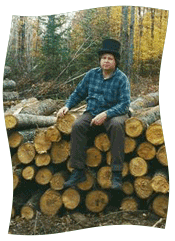 Welcome to the official website of one of the most imaginative and insightful figures on the aesthetic and intellectual scene today - composer, pianist, visual artist and writer David Thomas Roberts. Driven to multimedia expression since his mid teens and conducting both art-making and career in independence from academia as well as most other institutional vehicles, he has fashioned a vastly encompassing and wildly personal family of languages and utterance, a legacy likely to fascinate, inspire and haunt for many years to come.
Introduction
Anyone entering the domain of my composition, visual art or writing should expect a curvaceous affair in which the lyrical is paramount, the personal and historical are always interchangeable and the supernatural and cerebral know no distinction.
The following online introduction to my recording Discovery tells not only of my musical aesthetics and underpinnings but reveals something of all my workings:
"I am above all a Romantic artist. Not only have my musical heroes been Romantic, but the tenets of Romanticism - faith in the imagination as turnstile to transcendence and preference for the subjective, the non-rational and the mysterious - are central to my practice."
Thus do I believe that human interiority can be voiced, explored, enriched and transcendently utilized. Elaborated concepts and detached musings, no matter how elegant, are never sufficient to capture a glint of the radiant magic at the base of this life. And it is above all the drive to access hints of such wonder that sustains my work, the offered evidence of my struggle to draw ever closer to what Paul Klee called "the heart of creation."