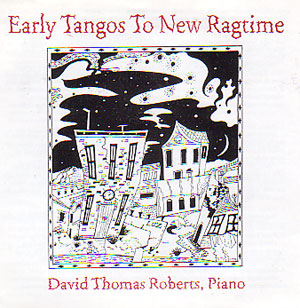 (Pianomania Music Publishing, Roseville, CA, 1995 - CD)
Status: Available for purchase here.
Introduction
The vitality of contemporary ragtime-based composition could not have been foreseen during the ragtime revival of the 1970s when many of today's composers took up the form. By the late 1980s, however, some of us observed the makings of a wave as fresh and crucial musical links formed between composers who (1) saw Latin American music as a fomenter of ragtime composition's future as well as its past and (2) dared to believe that some of the most important music of the later 20th century was and would continue to be "New Ragtime."
The term "New Ragtime" made its first appearance as a possible battlecry in George Willick's article, "Brun's Boys" (The Rag Times, November 1980). Appearing in all caps and referring to my work, it seemed more an affirmation of my output in the late 1970s then a moniker for a movement. But with the explosion of ragtime composition since 1980 -- a period marking the emergence of the likes of Frank French, Hal Isbitz, Glenn Jenks, Jack Rummel, Scott Kirby and Brian Keenan -- "New Ragtime" has found its undeniable application. A new era in the development of ragtime and ragtime-based composition is here.
Track Listing
Odeon

(Ernesto Nazareth, 1910, recorded October 9-15, 1992). Ernesto Julio de Nazareth (1863-1934), a native of Rio de Janeiro, developed the Brazilian tango prior to and during the piano rag's commercial heyday. His career output totals over 250 tangos, waltzes, choros and polkas. He profoundly affected composers as diverse as Heitor Villa-Lobos and Darius Milhaud, both of whom hailed him as one of Brazil's cultural heroes.
Odeon, his signature work, is named for the theatre where Nazareth performed for some years. It was upon my hearing Arthur Moreira Lima's recording in 1985 (thanks to Tom McDermott) that I was swept into Nazareth's world, intoxicated and uplifted to discover a composer as consuming of my affection as Joplin had been in the early '70s. In the third strain of Odeon find the poignance that places Ernesto Nazareth at the heart of the Pan American sensibility.

Matuto

(Ernesto Nazareth, 1917; recorded October 9-15, 1992). This lyrical tango whose title is translated as "Rustic," was rarely heard in the U.S. until recently. Typical of Nazareth is the elegant, brooding second strain in the relative minor.

Rapid Transit

(Joseph Lamb, 1964; recorded October 9-15, 1992). Classic ragtime pioneer Joseph Francis Lamb (1887-1960) worked in a variety of styles, from folk ragtime to Novelty piano. Rapid Transit is an example of his folksiest direction. Still unpublished, it was seldom heard outside piano roll circles until Bob Wright's 1967 recording was released in 1992.

Bee Hive Rag

(Joseph Lamb, 1964; recorded October 9-15, 1992). This eloquent, mature Lamb work remains unpublished and here makes its commercial recording debut. Left out of the Golden Treasures folio that made available so many once-obscure Lamb compositions, Bee Hive remains rarely performed. I was introduced to the piece by Trebor Tichenor via a mechanical piano roll cut by Harold Boulware. My recording was made with the permission of Joe Lamb's daughter, Patricia Conn.

The Naked Dance

(Tony Jackson / Jelly Roll Morton; recorded October 9-15, 1992). This rowdy relic of the legendary pianist Tony Jackson was remembered by Ferdinand "Jelly Roll" Morton as an accompaniment to nude dancing by prostitutes in New Orleans. The present version is my own departure from Morton's performance (Jackson's, like most of his efforts, went unrecorded and unnotated). For evidence that The Naked Dance may be an assembly of floating folk material, see Les Copeland's Dockstader Rag.

For Molly Kaufmann

(David Thomas Roberts, 1981; recorded October 9-15, 1992). This wholly romantic piece attempts to synthesize the rigid, strophic features of the traditional rag with the developmental, rhetorical character of larger European forms. In sensibility and texture it owes something to the romantic nocturne. Highly recommended is Morten Gunnar Larsen's recording on the Norwegian Herman label.

The Show-Me Rag

(Trebor Tichenor, 1966; recorded October 9-15, 1992). I have characterized this rag as "a tour de force of driving bluegrass piano, a hellbent locomotive of downhome frenzy." The sense of ruggedness marking most of Tichenor's music is here taken to a unique level, to be sure.
Though Trebor may be best-known for collecting, researching, reprinting and writing about ragtime, his compositions have been an important part of the development of New Ragtime. By the early 1960s he had conceived a distinctive, folk-rooted style as evinced by Pierce City Rag and Days Beyond Recall. Such later works as Cottonwood Rag, Last Trip Down From Hannibal, The Vintner's Dream, and Distant Lights mark his evocative language as central to the perpetuation of folk ragtime as a dynamic contemporary medium.

The Nonpareil

(Scott Joplin, 1907; recorded October 9-15, 1992). Though only infrequently programmed The Nonpareil is one of the mature Joplin's crucial works, standing in the company of Gladiolus. For me, Scott Joplin reveals himself no more touchingly than in The Nonpareil's final section.

Mississippi River Boulevard

(Brian Keenan, 1993; recorded May 23-24, 1994). St. Paul native Brian Keenan was introduced to the Colorado ragtime community in 1991 while he was studying piano and composition at the University of Colorado in Boulder. Having written rags since age twelve, he had already discovered much of the basis of his ragtime language. Mississippi River Boulevard was the first work to demonstrate his potential as one of New Ragtime's major practitioners. Keenan has explored many compositional directions, and is an excellent pianist whose interpretations of ragtime-related music should be more widely heard.

Shoo Fly

(Kessinger Brothers, arranged by DTR; recorded May 23-24, 1994). The connections between ragtime and early country music are many and deeply rooted This is celebrated in my stylized adaptation of Shoo Fly, a fiddle tune recorded by the West Virginia-based Kessinger Brothers (they were actually uncle and nephew) in the late 1920s.

Memories of a Missouri Confederate

(David Thomas Roberts, 1989; recorded October 9-15, 1992). The title refers not to a known soldier, but to an imaginary Missourian reviewing his experiences in the struggle for Southern independence. The piece was begun in Columbia, Missouri. Also recommended are recordings by Morten Gunnar Larsen (on PianoMania) and Frank French.

Belle of Louisville

(Frank French, 1990; recorded October 9-15, 1992). Increasingly prominent in New Ragtime's dissemination, Frank French has emerged as a ragtime activist. As composer-performer, radio host, and festival producer, he has accelerated the recent surge of interest in ragtime and Pan American piano music. His championing of Nazareth, Gottschalk and many New Ragtime composers has helped set the pace for current attitudes toward ragtime-related music.
Belle of Louisville is one of the best-known contemporary rags and reflects the composer's folksier interests. High-kicking but infused with touches of idiomatic plaintiveness, its title refers to a riverboat upon which Frank once played.

Morelia - Fantasy in the Form of a Tango

(Hal Isbitz, 1989, dedicated to D.T. Roberts; recorded October 9-15, 1992). Hal Isbitz is one of New Ragtime's most gifted and skillful composers. Eclectic, introspective and rooted in romanticism, his work embodies the ambitiousness and expressivity of late 20th century ragtime-based music. In Morelia, the elegiac identity so much a part of Isbitz' world predominates, though the trio offers considerable playfulness. Morelia's coda is, for me, one of the most memorable entities in all of ragtime-related composition.

Está Chumbado

(Ernesto Nazareth, 1896; recorded October 9-15, 1992). By the 1890s, Nazareth had fully developed his approach to the tango brasileiro. Appearing the same year as Está Chumbado was the haunting Myosotis; the better known Brejeiro had been published three years earlier.

Escovado

(Ernesto Nazareth; recorded October 9-15, 1992). I first heard this tango in 1985 thanks to Nazareth's 1931 recording, a Brazilian re-release of which was provided by Jack Rummel. Note the extended, syncopated treble octave passage in the third strain's repeat which, in Nazareth's performance, is strangely reminiscent of the polyrhythmic octave work of Jelly Roll Morton.

The Big Man

(Tom McDermott, 1990, for David Thomas Roberts; recorded October 9-15, 1992). This eerie and imaginative habanera in F sharp minor is from a series of character sketches written by McDermott in the early '90s and presented on his recording, Some Friends of Mine. Sporting raw tritones in the A section and grinding dissonance in both strains, The Big Man bears a thorny fabric to sustain its rancorous darkness.
Tom McDermott began composing rags in the 1970s but eventually moved into an eclectic territory of short pieces defiant of categorization. He is an authority on recent New Orleans piano styles, freelances as a music reviewer and supports himself as a jazz pianist.

Mississippi Soul

(Jack Rummel, 1984, dedicated to David Thomas Roberts; recorded October 9-15, 1992). For some years Jack Rummel has been recognized as one of New Ragtime's major purveyors. Not only as composer, but as writer, performer and host of the radio show, Ragtime America (KGNU, Boulder, Colorado) has this dentist and bluegrass musician been a spokesman for ragtime.
Mississippi Soul should be played, according to the composer, "with ebullience, garnished lightly with melancholy."

The Queen of North Missouri

(David Thomas Roberts, 1989; recorded October 9-15, 1992). My intention to write a folk rag by this name dates back to 1979 when I was researching early ragtime composer C. L. Woolsey in northwest Missouri. It was after concertizing at Northeast Missouri State University in Kirksville in 1989, though, that I revived and realized the idea. This piece could serve as an introduction to my decidedly contemporary folk ragtime spectrum with its references to country music, romantic tinges, hint of 1960s pop (The Beatles' "Should Have Known Better" is alluded to in the opening of the A section) and the folk-artish parallel octaves, a device I've loved well.

Ravenna

(Scott Kirby, 1993; recorded May 23-24, 1994). By any measure, Scott Kirby (b. 1965) is one of New Ragtime's most important practitioners. Raised in Urbana, Ohio and based in New Orleans since his early 20s, he rose to prominence as an interpreter of Scott Joplin, and recorded the complete ragtime works of the classic ragtime master. A superlative performer of many ragtime styles, Kirby has recently distinguished himself as a ragtime composer with few equals in the medium's history. Such compositions as Pirate's Alley, Columbine, the two Nocturnes, Circ de Ville, Dance of the Antilles and St. Paris Pike are driven by a powerfully introspective and acute mind bent on revelation. A sense of confession and of the struggle to grasp, memorialize and transcend losses and terrors pervades the musical world of Scott Kirby.
Ravenna is a rarefied entree to this memory-charged spectrum. Part habanera and part rag, it was written largely in response to transformed recollections of a music box owned by the composer's grandmother.

David Thomas Roberts