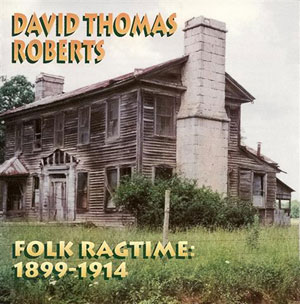 (Stomp Off Records, York, PA, 1997 - CD)
Status: Available at JazzByMail
Track Listing
Blue Blazes (Arthur Sizemore)

A Tennessee Tantalizer (A Southern Tickler) (Charles H. Hunter)

A Tennessee Jubilee (Thomas E. Broady)

Tickled to Death (Charles H. Hunter)

Poison Rag (Calvin Lee Woolsey)

Scizzor Bill (Logan Sizemore)

The Dockstader Rag (Les Copeland)

Camp Meeting Melodies (Blind Boone)

Blind Boone's Southern Rag Medley No 2 (Strains From the Flat Branch) (Blind Boone)

Felix Rag (A Phenomenal Double Ragtime Two Step) (H. H. McSkimming)

The Pirate Rag (E. A. Windell)

Medic Rag (Calvin Lee Woolsey)

Just Ask Me (Charles H. Hunter)

Why We Smile (Charles H. Hunter)

Cotton Bolls (Charles H. Hunter)

'Possum And 'Taters (A Ragtime Feast) (Charles H. Hunter)

The Black Cat Rag (Frank Wooster-Ethyl B. Smith)

X. L. Rag (L. Edgar "Jelly" Settle)

A Bran Dance Shuffle (Wade Harrison)

Whittling Remus (Thomas E. Broady)

Lover's Lane Glide (Calvin Lee Woolsey)
Liner Notes by Trebor Tichenor
Little is known of the Sizemore brothers: Arthur penned The Climbers Rag and Blue Blazes while Logan did Scizzor Bill. The latter two rags were published by Victor Kremer in their banner year for rags, 1909.
Blue Blazes is well-named, a dramatic folk rag in A flat charged with familiar broken chord syncopations that never let up. However, the composer manages a lyricism that expands our interest beyond the pure textural syncopes. Eccentricities abound, including the finale marked "P dolce" that makes an unexpected move to the subdominant to finish this inspired rag.
Scizzor Bill, "dedicated to my brother composer, Arthur Sizemore" pictures a dancing farmer. The title was slang for farmer, descriptive of the blue jean work outfit with the material crossing to form an "x" in the back, like opened scissors. This rag is a true lost gem, with four extraordinary strains. As in Arthur's Blue Blazes, the momentum never diminishes. The first strain achieves a funky flavor, with slurs and blue notes. An implied break in measures 3-4 is brought to fruition in the second strain, which also has a bit of tongue-in-cheek schottische rhythm associated with the so-called "rube" tunes. The third strain contrasts a descending figure (measures 1-2 and 9-10) with fast moving octaves. The last strain effects a compressed call and response between syncopated bass octaves and treble melody in quarter notes and even adds a bit of "3 over 4" (secondary rag) for spice.
The original Nashville sound is unknown today in the capital of country and western music; yet at the turn of the century a distinctive form of bucolic ragtime was written and published there. The two pioneers of the style were Charles Hunter and the mysterious Thomas E. Broady. The publishers were Frank Fite and H. A. French, the latter related to the Jesse French of the prosperous piano company that employed Hunter as a tuner. After he was transferred to the St. Louis branch, Hunter fell prey to the deadly delights of the sporting life and was dead of tuberculosis by 1906.
Hunter established the Nashville rag style with his first and biggest hit, Tickled To Death of 1899. This rag achieves a syncopated country march hoe-down flavor and was universally loved throughout the ragtime era.
Both A Tennessee Tantalizer-A Southern Tickler and 'Possum and 'Taters-A Ragtime Feast appeared in 1900. The former features brief call and response patterns and a 32 bar strain spiced by a prominent blue seventh; 'Possum is a quintessential country folk rag with flowing melody and a trio strain of captivating syncopation.
Cotton Bolls has a wonderful lyricism, while the opening strain of Just Ask Me has a touch of sadness. Why We Smile is for some reason rarely performed, but is an excellent folk rag.
Almost nothing is known of Thomas E. Broady. (But his Mandy's Broadway Stroll of 1898 was actually the first published Nashville rag.) His A Tennessee Jubilee begins in A minor with cake walk flavor, but more highly syncopated. After moving to the relative major (C) he continues to change key to F and finally ends with a lyrical strain in B flat. Curiously, this last strain also appears as the chorus of a coon song, I Can Pick De Winner Wid My Two Eyes Shut, by Verner E. Phelps and P. Sweningson, published the same year by H. A. French, in Nashville.
Broady's finest rag is probably Whittling Remus of 1900 which beautifully combines lyrical first and third strains with explicit, rhythmic syncopations in the second.
I have found a total of 20 rags in the early Nashville style (preceding later figures such as Lew Roberts). These are by Hunter, Broady and a number of one-shot writers, some of whom may be aliases for Hunter. However, A Bran Dance Shuffle by Wade Harrison is probably not one of these; it is an excellent original whose title, according to Ragtime Bob Darch, refers to a country tradition of dancing on walnut shells(!).
The Black Cat Rag was a hit in its day, highlighted by the suggestion of a mewing cat in the trio melody. Composer Frank Wooster was a St. Louisan who originally published his own tunes; John Stark later took up most of the copyrights.
X. L. Rag of 1903 was dedicated to the X. L. Club of New Franklin, MO and published by A. W. Perry and Sons of Sedalia, MO. Edgar Settle was a Missouri pianist who later wrote the melody that became the Missouri Waltz. The story goes that the original title was "Graveyard Waltz," and that Settle was unconcerned when others expressed interest in it. The tune was eventually credited to one Frederick Knight Logan. Settle's nephew recalls the composer as a loner and something of a curmudgeon who was watched over by the family. His early X. L Rag is one of the greatest Missouri folk rags. While showing the influence of Joplin (in the intro and second strain), it is a very original conception overall, achieving in the third strain a high point in ragtime composition.
Calvin Lee Woolsey was a multi-talented physician and ragtime composer of Braymer, MO. He served in World War I and did his post-graduate work at Harvard Medical School, specializing in mental hygiene. He was also a gourmet cook, carpenter, and builder of radios. His rag titles relate to his medical interests: besides Medic Rag and Poison Rag, there are Peroxide and Funny Bones. Here again we have superior compositions in a very original, folksy style. Judging from the numerous piano roll issues of the tune, Medic Rag was probably his most successful. While some influence of Maple Leaf Rag may be cited, especially in the trio, he adds a dotted rest figure here, a most sophisticated syncopated idea, and a great surprise. Poison Rag, by contrast, reveals the composer's flair for the macabre with an arresting skull on the cover and the insistence on minor tonality in call and response patterns. Overall, it has a more vertical feeling with a sinister edge.
Lover's Lane Glide is probably Woolsey's masterpiece. It was published by the composer in 1914 after an apparent move to St. Joe, MO. The "Glide" was a popular ragtime era dance; the cover depicts two dancing couples in a rural lane with a car parked in the background. The title takes on more import when we learn of the composer's many rumored clandestine meetings with various lady friends. Musically, we have a wry reference to the most successful "Glide" of the period, Harry Van Tilzer's Cubanola Glide of 1909, which echoes in the first strain and the trio-intro. But Woolsey has taken this as a basic inspiration for a rag of truly remarkable imagination and feeling, crowned by the great 20 bar trio. His stylistic idiosyncracies abound, including bass octave grace notes to help create one of the most memorable Missouri rags of all time.
"Rags and Ragtime" describes Les C. Copeland as "an anomaly among eccentrics." Even this seems an understatement when we read about him in "This Must Be the Place," the memoirs of a Montparnesse bartender, Jimmie Charters. During his stay in France, Copeland dressed like a cowboy and told outrageous folktales while cadging drinks. He favored edible flowers in his diet and took long daily walks to help counteract his legendary imbibing. He was equally eccentric musically but compelling enough to claim George Gershwin as a fan. The Dockstader Rag reflects his time with the venerable minstrel troupe led by Lew Dockstader. Folksy highlights here include the unlikely harmonies of the second strain and the entire third strain, the same as one Jelly Roll Morton used in The Naked Dance.
John William Boone, better known as Blind Boone, was a native Missourian, a black musical genius who could play back perfectly any piece he heard on the piano, no matter the complexity. He spent his life performing throughout the country from the 1880s until his death in 1927. While he featured many of the European classics, he was one of the first artists to bring black folk music to the concert stage, "putting the cookies on the lower shelf," as he put it. In 1912, he was one of the first black pianists contracted to cut piano rolls, for the QRS Co., then in Chicago. These early hand-played rolls are a rare legacy of a great Missouri legend. Included among them are two folk medleys, Camp Meeting Melodies, and Rag Medley #2, the latter published by Allen Music Co. of Columbia, MO in 1909 as Blind Boone's Southern Rag Medley #2-Strains From The Flat Branch. "Flat Branch" refers to the black community of Columbia, MO. These rolls present many unexpected features including rubato and polymetrics in a loose, rhythmic and highly syncopated style. They may be examples of an early synthesis of the folk world with traditional European form either pioneered by Boone, or picked up by him from other early pianists. Camp Meeting Melodies sounds like a collection of spiritual melodies. Rag Medley #2 contains more vernacular material, including the well-known I'm Alabama Bound, and the lesser known Carrie's Gone to Kansas City and (The First Shot Got Him) So They Say. Roberts himself synthesizes the best features of the eccentric score and the roll to create a memorable performance.
Thirty years ago the great Bob Wright stunned us all by performing Felix Rag-A Phenomenal Double Ragtime Two Step by H. H. McSkimming, published in Kiowa, Kansas in 1914. The tune has a folk strain of an incredibly extended rhythmic figure in the right hand, breaking conventional harmonic rules much of the way. For years I was confident that this was a lone idiosyncratic outburst of ragtime. However, I recently uncovered a tune in Dave Jasen's collection called The Pirate Rag by E. A. Windell published in Enid, Oklahoma in 1904 that has a second strain nearly identical and obviously adapted later by McSkimming for Felix Rag(!) This may have been something of a regional folk rag strain, as the two towns here are not far apart. Actually the strain is more simply stated in The Pirate Rag; McSkimming's is a bit different, and he went on to end his rag with a blazing variation of the original idea. These two rags are prime examples of finding the most compelling folk ragtime in the smaller towns; only five of the 21 tunes featured here were originally issued by the publishers in the larger cities.
The selection of folk rags here is inspired; lost gems are unearthed for the first time, and a few more familiar tunes are included. All are given moving and compelling performances by one of ragtime's greatest players and composers. David Thomas Roberts has a great flair for this folk idiom of the unusual and unexpected. The more obscure corners and forgotten paths of ragtime continue to yield untold riches: another milestone recording of lost treasures.
- Trebor Tichenor (July, 1997)