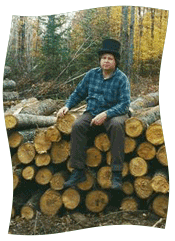 Composer-pianist, visual artist and writer David Thomas Roberts was born in Moss Point, Mississippi in 1955 and was painting, composing and writing by age eight. He has written over 120 works for piano and numerous chamber, vocal and electronic pieces. Though he has worked in various genres from his late teens, it is for his unique contribution to New Ragtime and its related idiom, Terra Verde, that he is best known. While still in his twenties, he came to be regarded as the leading living composer of piano rags and was hailed by New Orleans historian Al Rose as "the most important composer of this half century in America."
As a pianist, David has concertized from Oslo Concert Hall to the major cities of Japan to New York's 92nd Street Y and throughout the U.S. His compositions have been recorded by a great variety of soloists and ensembles, from Japanese guitarist Takasi Hamada to Norway's Ophelia Orchestra. His music has been heard on the major media venues of North America from ABC TV's Good Morning America to National Public Radio's All Things Considered and across Canada on CBC radio. In 2003 he accompanied the Oakland Ballet with arrangements of works by Classic Ragtime composers. He is a frequent recipient of grants from Meet the Composer.
David Thomas Roberts' visual art was featured in the winter 1994-95 issue of Raw Vision, the premier magazine devoted to Outsider and Visionary Art. His poetry has frequently appeared in independent periodicals and is included in Another South, an anthology of experimental poetry published in 2003 by University of Alabama Press. As a scholar, he has authored entries in The New Grove Dictionary of American Music.