(Viridiana Recording, Sandpoint, ID, 1996 - CD)
Status: Available at CD Baby | JazzByMail
Track Listing & Liner Notes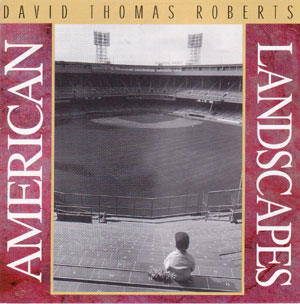 Pinelands Memoir

(1978). This piece may be regarded as the musical culmination of my relationship with south Mississippi. It began as a public improvisation in New Orleans and was completed in music practice rooms at Tulane University (whose faculty had offered me the use of its facilities). The parallel octaves doubling the melody in the first stain were inspired by Callis Wellborn Jackson's Texas Rag (1905), to which I had recently been introduced by ragtime composer, scholar and performer Trebor Tichenor. Shot through with essences of folk ragtime*, hymns and country music, Pinelands Memoir is evocative of the wildly timbered backroads of Mississippi's Piney Woods country with its lonely churches, homesteads, creeks and logging trails. It is also an anthem of regional pride, unabashed in tenderness and ferocity.

The Girl Who Moved Away

(1981-82, for B. and B). The mingling of Romanticism and folk ragtime is ideally expressive of much that I seek to embody in short piano compositions. This wistful rag brings the two together again and encircles the union with hints of country music.

Back to Marion County

(1981). This is a testament of longing for the Piney Woods county containing one of Mississippi's topographical wonders, the dramatic Red Bluff, near Morgantown. The ties to traditional Southern upland music (especially for string band) are fortified by the choice of the keys of B and E, tonalities rare in early piano ragtime but popular among string players.

Through the Bottomlands

(1980, for Vicki Picou). Bottomlands are defined as low-lying areas near rivers containing rich alluvial soil. But for me the connotation is far richer than the definition. The word "bottomlands" evokes wetlands as well as farmland; it recalls rural isolation, tiny, half-tilled farmlands bordering swamps, the poverty of families reliant upon meager vegetable outputs, dreams of the land and its human tenants existing inseparably…

Muscatine

(1979). This folkish piece is a memento of my first journey to Iowa. I had been in Chicago for a few days in early November, 1979, showing a box of my drawings and mixed media pieces to art dealers. Long before the time came to leave town I had decided to swing westward into Iowa rather than directly return to St. Louis and Mississippi. At the bus station I asked which Iowa destination could be reached for around $20, and so, for $22, bought a ticket to Muscatine.
Muscatine is a remarkable town rich in turn-of-the-century structures and Mississippi River lore. My five-sectioned composition was fed by a night of pacing the heart of town and lodging at the Hotel Muscatine, my passion for the lyrical east Iowa landscape and reflection upon the historical Midwest and the advent of pioneers.

Kreole

(1978). Kreole is the village in or near which the bulk of my childhood was spent. Long ago the town was annexed by Moss Point, though the Kreole signs on Highway 90 have been allowed to stand. Kreole was begun as I rolled through the eastern Ozarks for the first time, fired by the evocative, oddity-filled folk ragtime of Brun Campbell I had just heard back in St. Louis. New Orleans touches a la jazz pioneer Ferdinand "Jelly Roll" Morton also abound in Kreole.

Dixon (John Hancock)

. Though John Hancock has gone on to a successful career in Missouri politics, he came to the attention of the ragtime community as a teen-aged composer in 1979. Growing up in the St. Louis area, he heard ragtime early on and was composing promising rags by his mid-teens. Later he recorded an LP for the Stomp Off label called Mississippi Motion, which consisted of both original works and early rags.
It is for the poignant Dixon that John Hancock remains best known as a composer. Evocative of the cemetery in Pulaski County, Missouri, that includes the graves of his paternal grandparents, Dixon is a souvenir of Ozark life as well as personal history. Laden with hints of hymns and country music and filled with the idiosyncratic part writing common in folk rags, Dixon is a prototype of contemporary folk ragtime and one of New Ragtime's most revealing documents.

The Girl On The Other Side

(1979). The first strain is my variation of the traditional fiddle and string band tune, "Ragtime Annie". The title may be taken as a reference to death -- or to the other side of a creek, mountain, hollow, etc.

Franklin Avenue

(from New Orleans Streets, 1981-85). New Orleans Streets is a 15-sectioned suite bearing the influences of ragtime, Romanticism, early jazz, Latin music, hymns, country music, early rock 'n' roll and music from the Mediterranean. Born of my life in New Orleans in my twenties, Streets is reflective of the extremes of that unique and troubling city.
Franklin Avenue is one of two sections of the suite classified as a rag (Napoleon Avenue is the other), though the chorale (strain no. 3), and lyrical cavatina (the following section) are certainly defiant of the patterns of "traditional" ragtime composition.

Fontainebleau Drive

(from New Orleans Streets, 1981-85). This is the suite's shortest section and offers its placidity in caressing contrast to the turbulence and darkness of so much of Streets.

Napoleon Avenue

(from New Orleans Streets, 1981-85). An evocation of the residential Uptown street mingling the genteel and the delicately earthy. And though there are gregarious, dancing moments, withdrawal and disquiet have the ultimate say.

Madison Heights Girl

(1979). The rural breakdown and string band often associated with it can be felt throughout this piece. The title refers to an anonymous girl from Madison Heights, Virginia, whom I observed and spoke to fleetingly at a baseball tournament in Conyers, Georgia, in the Summer of '79.

Anna

(1978, "to my beloved Little Egypt"). Southern Illinois, locally called "Egypt" and "little Egypt" became one of my terrain-wrangling obsessions after my first glimpse of it in early June of 1978. The town of Anna is one of the region's hubs and a peach growing center. Around dawn during that initial journey through Little Egypt -- the same one taking me to St. Louis and the Missouri Ozarks for the first time -- Anna endeared itself as the first town I identified in the southern Illinois I was so excited to behold.

Last Days of the Polo Grounds

(1986-87). The second Polo Grounds, home of the New York Giants baseball team from 1890-1957, could be called the most history-filled structure in American sports. Abandoned by the Giants, who were moved to San Francisco, it later became the first home of the Mets. When they relocated to the new Shea Stadium, the mighty Polo Grounds was replaced by a housing project -- a typically grim testament to the draconian change that has characterized urban American life.
In Last Days of the Polo Grounds we are invited to stand before the generations of memories before the site that housed them is erased.

Roberto Clemente

(1979). Roberto Clemente, the legendary right fielder of the Pittsburgh Pirates, was born in Carolina, Puerto Rico in 1934 and died on New Year's Eve, 1972 off the coast of his native island in a plane that never reached the Nicaraguan earthquake victims to whom it was carrying supplies. Although familiar with Clemente during his career, I was no more mindful of him than of some other outstanding ballplayers. It was the film about him shown during the 1979 World Series that transformed my image of Clemente into a myth to be recalled with affection. Incisively moved by this poetic series of glimpses of his career and the circumstances of his death, I had decided by the film's end that there must be a ragtime composition for Clemente, a piece evocative of the man as I had viewed him via the documentary.
I have referred to Roberto Clemente as a "folk elegy" and a "country funeral." Marked "warmly and solemnly," it is a rag forthrightly typifying the plaintiveness -- the gentle anguish, even -- that I have always associated with the lyrical medium of ragtime.

For Kansas City

(1980). On an extended stay in Kansas City in the Summer of 1980, I became interested in exploring Grundy County in northern Missouri. To help me fund such an excursion, John Dawson and Don Lampman commissioned me to write a rag related to my Kansas City experience. This thick-textured, demanding and impassioned piece was the result.
I now visit Kansas City far less than I once did. And I never made it to Grundy County.
*Generally, small town and rural ragtime from the Midwest and South normally marked by idiosyncrasies such as odd numbers of measures per strain, parallel octaves and fifths in the bass (instead of octaves and single notes).