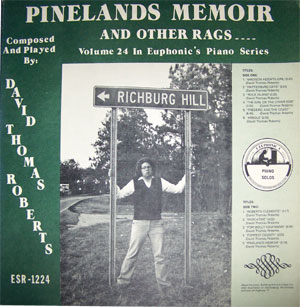 (Euphonic Records, Ventura, CA, 1983 - LP)
Status: Out of Print
Track Listing & Liner Notes
Madison Heights Girl

(1979). The world of country string band music, particularly as expressed in the breakdown tradition, influenced this piece. Madison Heights is a suburb of Lynchburg, Virginia.

Hattiesburg Days

(1979). Like Forrest County, Hattiesburg Days is an evocation of my life at the University of Southern Mississippi. The C section is highly representative of my approach to variation in ragtime.

Rock Island

(1979-80). After a brief stay in Chicago in early November, 1979, I took a bus westward to spend one day in eastern Iowa before heading back down the river. It was through the Quad Cities -- Rock Island, Moline, Bettendorf, and Davenport -- that I rolled out of Illinois and into Iowa. Rock Island is, like Muscatine, a souvenir of that short but ever-memorable highway adventure. Beginning in D flat, it swings to G flat for the final trio and on to C flat for the finale.

The Girl on the Other Side

(1979). The first strain is my version of the mountain tune "Ragtime Annie." The title is a reference to death.

Frederic and the Coast

(1979). This habanera is a memento of the great hurricane that attacked coastal Mississippi, Alabama, and Florida on September 12-13, 1979. Returning from Kansas City more than a week after Frederic hit, I witnessed fresh signs of the devastation in Pascagoula and Moss Point. In a few days Frederic and the Coast was underway. For me it is associated with the landscapes of resignation and the tragic peace known to coastlines that have been battered and transformed by their waters.

Kreole

(1978). Kreole is a village in or near which the bulk of my childhood and adolescence was spent. In Kreole, the same elements found in From Lake Wales to Climax converge and summarize themselves in a frenzied conclusion. Long ago the little town was absorbed by Moss Point, but the Kreole signs on Highway 90 have been allowed to stand.

Roberto Clemente

(1979) Roberto Clemente (1934-1972), the legendary rightfielder of the Pittsburgh Pirates, died on New Year's Eve off the coast of his native Puerto Rico in a plane carrying supplies to Nicaraguan earthquake victims. Although I was well aware of Clemente during his career it was only after seeing the documentary about him shown during the 1979 World Series that I felt the need to compose a piece related to impressions of him. It was soon written. I have described Roberto Clemente as "a country funeral" and "a folk elegy." Marked "warmly and solemnly" it provides an undiluted sampling of the longing, innocence and anguish I have always associated with ragtime.

Muscatine

(1979). Named after one of the Iowa Mississippi River towns I touched in November of '79, this five-strained piece was fed by three sources: a night spent walking through town and lodging at the Hotel Muscatine, the flavor of the nearby land, and the constant spirit of the river that witnessed the disappearance of the Indians and the advent of pioneers.

For Molly Kaufmann

(1981). Named for the Denver-based ragtime musician, this piece can conceivably by viewed as a syncopated nocturne. The first two sections are in E major and C sharp minor respectively; they are followed by a mofulation to D major, the tonality of the trio. This trio, which recalls the Romantic nocturne with its arpeggiated bass, is divided by an unrepeated 20-bar habanera strain in B minor. The trio's second statement is greatly extended, leading climactically to a chromatic modulation which takes us to a transformed restatement of the rag's opening section, this time in A major. This is also extended, not climactically, but toward deep repose. A coda follows, marked calando. For Molly Kaufmann is an unusually complex and ambitious composition by ragtime standards, synthesizing the rigid, rondo-like features of the traditional rag with the developmental structures reminiscent of sonata form.

Forrest County

(for Maria Ratcliff, 1979). In the notes accompanying the piano roll of this piece which I cut in October, 1979, I wrote of Forrest County: "It was from September 1973 to March 1975 that I attended the University of Southern Mississippi at Hattiesburg, which is the seat of Forrest County. In that period this town and its surrounding land became and in many ways remains the nucleus of my life." Forrest County is an outcry for a setting and period which, in the delicate form in which I so richly knew them, are perhaps irretrievable.

Pinelands Memoir

(1978). With the exception of For Molly Kaufmann, this is the most ambitious piece included here and is very nearly my most successful ragtime composition. Note that the hymn-like element runs throughout. Unusual features include parallel octaves in the first strain, the placement of a 12-bar structure beside one of 32 bars, the 34-bar trio, a 14-bar interlude based on the second strain, and a coda. I view Pinelands Memoir, which began as an improvisation at the Gazebo in New Orleans, not only as a high-point in my ragtime work but as the musical culmination of my relationship with South Mississippi.